Hey everyone! I posted last week to say that I was wearing TGWW armour to the Entertainment Media Show this weekend if I got it finished in time. Well I did, and here is a very detailed breakdown of exactly how I made it.
Disclaimer:
I am not claiming this to be the best OR most screen accurate way of completing this costume AT ALL. This is just me explaining in great depth how I made my costume to try and help any Amy sisters that might wish to do the same. :) Using this method I completed this costume in 2 and a half weeks using easily available materials and spending less than £60.
Ingredients
A lot of cardboard.
PVA Glue and Superglue
Newspaper
White, Black and Silver Acrylic Paints
String
Mesh baking trays for ovens (wait... it'll make sense later)
A yellow jump lead (again... wait for it xD) or for more accuracy yellow one inch tubing
A large sieve/food coverer (These last three I bought from the 99p shop)
Scissors
A wooden bokken/katana sword
3 Primark belts
The clothes: Purple long sleeved top, lighter tanktop for underneath, lookalike Topshop saddle stitch jacket (I recommend a lookalike as it is going to get cut up), Camel/Mustard Topshop Jeans or lookalikes, boots
Okay. Let's begin.
Here is my hilarious sketch of the basis of Amy's armour. As you can see I have broken it down into 13 sections that I made individually and pieced together when they were all finished. I don't know if there really are 13 pieces... but on my hours of studying the extensive screencaps my friend Rob so graciously provided this is what I came up with.
Right shoulder
Main chest
Right chest
Lower left chest
Lower right chest
Left shoulder
Red section for left shoulder
Left upper back
Right upper back
Right lower back
Centre back
Left lower back
Left thigh
First step is to cut out all of these sections from the cardboard. Luckily I moved into uni 3 weeks ago so I had a large amount of cardboard at my disposal. The only tips I can give here about what I did to make them fit was sketch them out and then stand in a mirror with them infront of you! This way I could see if they were right size-wise for me. If not, adjust and try again. Then cut out the sections.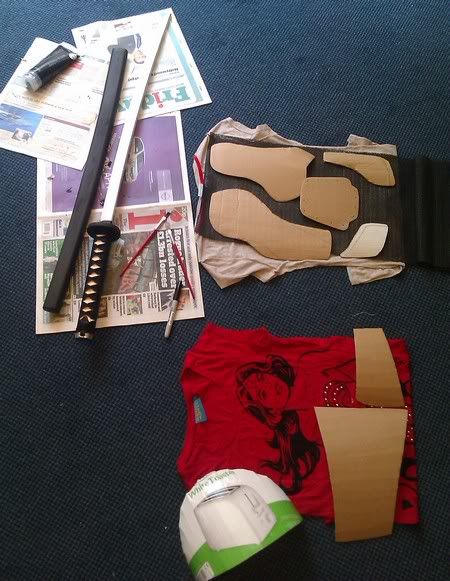 Above I have cut out a few of the sections, and painted my bought wooden bokken sword and scabbard. I lay out two of my tee-shirts on the floor to also help with the size of the sections, as you might be able to see, I have bent and curved the front two panels and the shoulder panels in order to fit the curve of my body. Doing this before adding papier mache makes creating the required shape of each piece really easy. (Note: Ignore the right shoulder piece in the above photo, I tried making it out of cardboard but decided that in order to easily get the curve shape I cut a large sieve in half and papier mached that!)
Next comes the papier mache! I very simply just used standard PVA glue and free Metro newspapers. xD I only papier mached the front of each sections, but made sure that the newspaper wrapped around all of the edges of each panel. Above are 5 of the sections drying on whatever I could find to balance them on :P I only used one layer of papier mache, due to time, but made sure to overlap each newspaper strip well. You may wish to do more. Just make sure to use A LOT of glue and leave it to dry fully before painting the sections.
After each piece has FULLY dried you need to paint them. Personally, I mixed half white acrylic paint with half PVA glue. You are going to need to do several layers, I think I did 4 before having a minor catastrophe. I had purposefully bought 3 new paintbrushes for this project, one for each of the 3 paint colours I was using (white, black and silver). But, after the 4
th
(and penultimate) layer of white paint on each of the 11 white sections I painted the red shoulder section. Then, I mixed up my brushes and ended up painting 8 of the 11 sections white with the paintbrush I had used for the red paint. @!?*$%"$%. Yeah. It meant they had a faint pink tinge that, on the thigh piece for example, was still there when I wore it on Saturday even after several more white coats! So yeah, don't make that mistake!
Above you can also see the shoulder armour, which I forgot to take any in progress shots of, as well as the section of yellow jump lead I used in place of the tubing that goes over the top of it.
For this section (1 on my plan) I used a large sieve I found in the 99p shop. I cut it in half and just like the rest covered it in papier mache, however this time I covered every inch of it inside and out. After letting it dry I painted the whole thing with black acrylic mixed again with a little PVA glue. Then, using a silver gel pen I drew on the repeat pattern (which made my eyes cross, and I had to do it in sections with breaks!) and painted it and the rim with silver metallic acrylic paint, which I bought from The Works. After this I stabbed holes along the top edge in order to thread silver-painted-string and add the yellow jump lead section. I secured the jump lead with some superglue, stuck 2 lengths of string on the inside (in order to attach this shoulder section to the main body of the armour) and piece finished!
Also, you can see that pieces 4 and 5 have a zig-zag pattern in the plastic (although I didn't notice the pattern on piece 4 until after I had finished my armour, so that is missing from mine!). To achieve the effect of the pattern seen above I used a really simple technique: layer upon layer of acrylic mixed with PVA and left to dry. For the left shoulder section (below) I used string stuck in rows underneath the papier mache to create the raised effect of the plastic, but for this chest piece I decided this painting method was easier to achieve the desired effect, I think it came out okay!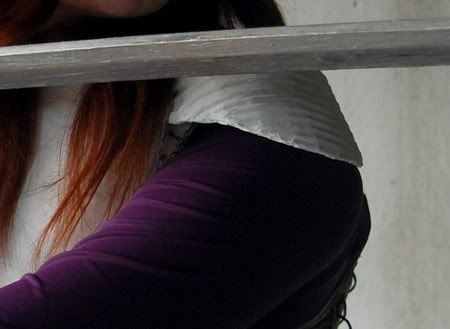 Here it gets realllllly tedious.
You need to stab lots and lots of holes around the edge of each armour section in order to attach them to the black-painted ovenproof mats to make the front and back armour plates.
Being a cheapskate I painted length after length of standard string with the metallic silver paint and used this to secure each plate onto the mesh. I made two separate 'plates' of armour, the front and back the above picture is of me attaching the final back panel on by threading the string though the mesh in and out of the holes I previously made in each armour section. This. Took. Ages!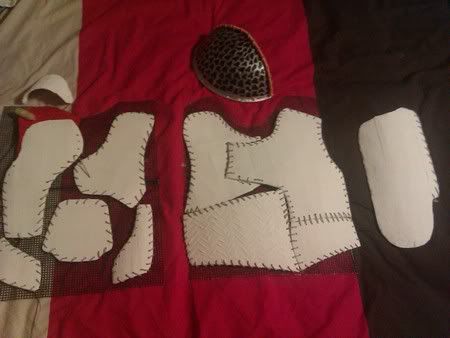 Above shows the front and back sections, the two shoulder sections and the thigh section nearly complete and attached to their respective layers of mesh.
Using black painted string I attached the front and back panels together at the shoulders, leaving about 3 or 4 inches of string between the two in order for them to sit at the correct levels on my body. I tied the shoulder pieces in place, but left the sides apart... I needed to be able to get into it somehow! This way I just had to place the armour over my head and have a friend tie 6 pieces of black string (3 down each side) down the sides of the armour on the morning of the con to secure it in place, as can be seen below: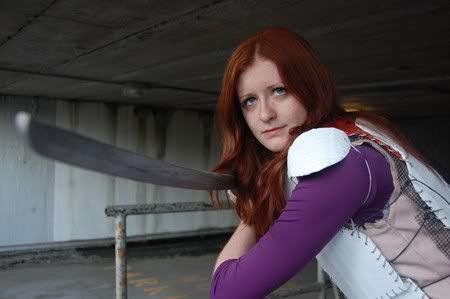 Also in the above picture you can see what should be a cut up Topshop Saddle Stitch jacket, but isn't as no way was I spending that much money to destroy that jacket! I was lucky enough to find a very cheap lookalike on ebay... for a 12 year old child. LOL. It was cheap so I decided to risk it and with the sleeves cut off it fit fine, luckily :)
The sword holster I made very quickly and inaccurately from 3 £1 primark belts that I sewed together around the scabbard. Simples!
All photos above that aren't clearly WIP shots were taken by the wonderful Anna Sheldrick at EMS on Saturday :D
Job. Done?